Essays For Middle School Students To Read
Ryan Collerd for The New York TimesJim Brozina read aloud to his daughter for 3,218 straight days, until she left for college. Go to related 2010 article »
This page started as a post, and then that post kept growing…and growing…and growing. So in March of 2012, just in time for Read Across America Day and World Read-Aloud Day, we decided the series needed its own dedicated page. We've continued to update it ever since.
Below, you'll find categorized suggestions, from the Learning Network staff and from teacher-friends around the country, for great Times essays, articles, Op-Eds and humor pieces on a range of topics to read aloud to your students — no matter what their ages. (Bonus: Nearly everything here falls under the definition of "informational text" emphasized by the Common Core Standards.)
Have suggestions? Unfortunately our system won't allow you to post them here, but stop by and read guest blogger Wendy Gorton's lively Tools and Tips For World Read-Aloud Day and feel free to post there. We'll happily add them to this ever-growing list.
Finally, at the bottom of this page, we offer suggestions for reading the Times aloud to both young and old(er).
Happy reading aloud!
---
Great "Read-Alouds" From The New York Times
Cliques, Teenage Social Life and Growing Up:
Our monthly series, Teenagers in The Times, is a great source for high-interest read-alouds, but here are a few specific pieces that we think work well:
Safe on the Southbank is a Lives column about growing up skateboarding in London.
The Ballad of Tribute Steve is also a Lives column, this one about a religious teenage girl and what happens when a Journey tribute band visits her high school.
"Yes, I'm in a Clique," a 1999 Op-Ed piece written just after the Columbine shootings, is by Nathan Black, then a high school freshman in Littleton, Colorado.
"Advice; Teen Angst? Nah!" was written by the author Ned Vizzini when he was a high school junior in 1998.
---
Portraits of People and Professions:
Corey Kilgannon's 2003 "Not a Good Day to Be the Mailman" and his 2011 "Mr. Mummy, at Home in the Bronx" are both great stories about New York characters.
Vincent M. Mallozzi's 2010 "He Clips Hair, Not Conversation," is about the world's oldest barber,
In "Doris from Rego Park Lives on in Song" Ken Plutnicki writes about a caller to late-night sports radio who became a New York institution. (2011)
Charlie LeDuff's 2004 "2 Clean Uniforms, Owners' Fates Unknown" brings home the war in Iraq through the eyes of a dry cleaner in California.
In 2011, Dan Barry wrote "Good Will to All, With a Side of Soft-Serve" about a Pakistani Dairy Queen owner in Pennsylvania who becomes the cornerstone of his community, one soft-serve fund-raiser at a time.
"Where Superheroes Get Their Capes" is a 2011 article by Andrew O'Reilly about a store where shoppers can stock up on superhero supplies and children can enter a hidden door to a writing center.
The New York Mets' mascot may be the one blameless figure in Flushing and possibly, the team's savior, writes Richard Sandomir in 2012's "Mr. Met Keeps His Head Up."
Kim Severson reports the fun 2011 piece, "In the Town of Phil Campbell, a Gathering of Phil Campbells."
The 2011 New York Times obituary of Steve Jobs, by John Markoff, was headlined "Apple's Visionary Redefined Digital Age"
Other obituaries of interesting people include Paul Vitello's 2011 "Norma Lyon, the 'Butter-Cow Lady,' Dies at 81," a piece by Dennis Hevesi from 2007 headlined "Momofuku Ando, 96, Dies; Invented Instant Ramen," and three by Margalit Fox: The 2012 obituary about John Fairfax, a man who "crossed the Atlantic because it was there, and the Pacific because it was also there"; the 2013 obituary of "Dear Abby," the "trusted, tart-tongued adviser to tens of millions," and the 2012 obituary of Maurice Sendak, "widely considered the most important children's book artist of the 20th century."
---
Inspiration:
A 2014 essay, "Drowning in Dishes, but Finding a Home," is about what a teenager learns from his manager at Pizza Hut.
"We Found Our Son in the Subway" is a touching 2013 Opinionator piece that landed on the Most E-Mailed list almost as soon as it was published.
In 2011, a tornado destroyed the Soper family's house in Cottondale, Ala., but spared their lives. Dan Barry writes about "Losing Everything, Except What Really Matters."
"Lynda Barry Will Make You Believe in Yourself," writes Dan Kois in 2011, and he's right: this article about the cartoonist and writer will make you want to sit down with a pen and create.
Just after the tsunami and nuclear disaster in 2011, Michael Wines reported the piece, "Newly Homeless in Japan Re-Establish Order Amid Chaos" about "the quiet bravery in the face of tragedy that seems almost woven into the national character."
In the 2011 piece, Ethan Bronner writes "Where Politics Are Complex, Simple Joys at the Beach" about a group of Israeli women who snuck Palestinian women and girls from the West Bank onto the beach in Tel Aviv for a daylong excursion.
---
Mishaps:
The 2011 story by Douglas Quenqua "Builders of Corn Mazes Hope to Lose Visitors, and One Actually Did" was very popular when it appeared on our blog that fall.
"People with cellphones call rangers from mountaintops to request refreshments or a guide; in Jackson Hole, Wyo., one lost hiker even asked for hot chocolate," writes Leslie Kaufman in this 2010 piece about how"Technology Leads More Park Visitors Into Trouble."
Controversies About Kids:
The 2007 article by Niko Koppel, "Are Your Jeans Sagging? Go Directly to Jail" and our accompanying lesson plan were among the most popular reads on our site that year.
This story by Ian Urbina, about a 6-year-old disciplined for bringing his spork to school, was the third most-viewed article on NYTimes.com in 2009.
A teacher in Massachusetts tells us that she reads this piece, about eliminating the senior year of high school, aloud to her students with great success. (2010)
Among the most-emailed articles of 2010 are two stories about controversial decisions regarding children: Alan Feuer's "4-Year-Old Can Be Sued, Judge Rules in Bike Case" and Lizette Alvarez's "Meet Mikey, 8: U.S. Has Him on Watch List."
A 2011 article by Jan Hoffman, "Allowing Teenage Boys to Love Their Friends," could be a great conversation-starter.
---
Technology and Media:
Novelist Gary Shteyngart's 2010 funny, engaging essay "Only Disconnect" is about how having an iPhone impacts his life.
Humorist Andy Borowitz wrote an Op-Ed called "Why Johnny Can't Blink" in 1999, while 2010 brought this news (with which you might use our accompanying lesson plan).
A New York City teacher wrote us to say her students also enjoyed 2009's "Texting May Be Taking a Toll" by Katie Hafner.
"The Designer: You. The Maker: Who?": A 2011 piece by Stephanie Rosenbloom about adventures in customizing jeans on Web sites–and assessing the results.
---
Science:
The Science Times is full of so many read-aloud possibilities every week that we encourage you to go there yourself first. But if we were going to recommend a few, we'd go with:
Natalie Angier's 2008 "The Wonders of Blood" or her 2015 "A One-Way Trip to Mars? Many Would Sign Up"
Dennis Overbye's 2005 "Remembrance of Things Future: The Mystery of Time" ("There was a conference for time travelers at M.I.T. earlier this spring. I'm still hoping to attend…"), or his descriptive 2008 article "First Stars Were Brutes, but Died Young, Astronomers Say."
We heard through teacher-channels that a popular article with science students was 2011's "Natalie Portman, Oscar Winner, Was Also a Precocious Scientist",
Anahad O'Connor's Really? columns on subjects like brain freeze and counting sheep are short, engaging reads.
In the 2012 article, "Preserved in Tar, Relics From Long Before Freeways," Sean B. Carroll explores the La Brea Tar Pits in Los Angeles, home to some of the most exquisitely preserved fossils in the world.
A reader posted on our old read-aloud page, "I absolutely loved Richard Cohen's Op- Ed of 12/19/10 titled "There Goes The Sun," which describes the universality of acknowledgment of the winter solstice in human cultures. Not only do we all learn all kinds of new and interesting information about the celebration of the winter solstice in different cultures, but we also are given, in a tightly-woven essay, enough information pulled from so many disciplines that we all feel more knowledgeable once it is done. I've shared it with my students, asking them to see if they can tell how many disciplines Mr. Cohen pulled together to write this brief and wonderful essay. It stands out, to me, as a wonderful model of what's possible from using research to form a view of the world and then expressing it."
---
Animals and Insects:
Lizette Alvarez writes, "In Florida, the Natives Are Restless," about how, during the spring and summer months, Florida has a dedicated hot line to report "nuisance" alligators. (2011)
"A goat frolics with a baby rhinoceros. A pig nestles up to a house cat. A rat snake makes nice with the dwarf hamster originally intended as its lunch": 2015's popular "Learning From Animal Friendships" makes a great read-aloud.
Benedict Carey's 2007 piece "Brainy Parrot Dies, Emotive to End" is fascinating, and students loved the 2011 article, "Lost 5 Years, a Colorado Cat Finds Her Way to Manhattan."
Articles about dogs are almost guaranteed to show up on the Most E-Mailed list, as did both Elisabeth Bumiller's 2011 "The Dogs of War: Beloved Comrades in Afghanistan" and Melissa Fay Greene's 2012 "Wonder Dog" about a golden retriever that was the only thing that could reach a raging, disconnected boy.
Natalie Angier writes about ugly animals in 2010's "A Masterpiece of Nature? Yuck!" which is accompanied by a terrific slide show and interactive feature full of reader photos of ugly animals.
"Around Bee Rescue, Honey and Rancor" is a City Room blog post by Emily S. Rueb about Brooklynites feuding over ownership of a hive of 30,000 to 40,000 honeybees. And for another engaging bee story, read Susan Dominus's 2010 "The Mystery of the Red Bees of Red Hook."
---
Life's Little Annoyances:
The City Room Blog has a section called "Complaint Box" in which people like high school junior Dylan Quinn rail against things like those impossible-to-open plastic packaging cases. And if you want to write your own complaint, we have a lesson plan to help.
---
Love and Romance:
"To Fall in Love With Anyone, Do This," a column by Mandy Len Cantron for Modern Love, was such a hit it has spawned its own app as well as follow-up columns about real people trying her 36 questions.
Alan Feuer recasts Missed Connections ads from newyork.craigslist.org as poems in the 2010 "I Was the One Reading Andrew Marvell. You Were . . ."
Charles H. Antin wrote in 2009 about his grandfather friending his ex-girlfriend on Facebook in "The Boundaries of a Breakup."
Two of the winners of the 2008 contest in which Sunday Styles asked college students nationwide to tell the plain truth about what love is like for them were Marguerite Fields's "Want to Be My Boyfriend? Please Define" and Owen Powell's "May I Have This Dance?" (Check both for suitability for your students first.)
Other Modern Love essays we love include:
"GPS on a Path to the Heart," Daniel Jones's exploration of how to find love in modern times (2011)
Tess Russell's very funny "Alone When the Bedbugs Bite." (2010)
In 2011's "It's Love at First Kill," Stephanie Rosenbloom tells the story of a couple who began their courtship as avatars on World of Warcraft, then met up and are now married.
---
Crime and Punishment:
A reader suggests this category, and says her students were interested in this 2010 story about a day in the life of the pay phone outside Queens Criminal Court.
Though columnist Bob Herbert no longer writes for The Times, we recommend his coverage of the relationship between teenagers, especially black and Latino teens, and the police.
This 2010 piece, "A Glimpse Inside a Troubled Youth Prison," tells the story of one boy's experience in a New York state juvenile prison.
---
Food:
A reader wrote to us to suggest two read-alouds, both from 1975: The review that Craig Claiborne wrote of Chez Denis that is headlined, "Just a Quiet Dinner for Two in Paris: 31 Dishes, 9 Wines, a $4,000 Check," and Russell Baker's parody, that came out a short time after and ends with "Between mouthfuls, I sipped a tall, bubbling tumbler of cool Bromo-Seltzer, and finished with six ounces of Maalox. It couldn't have been better."
Restaurant critic Pete Wells's 2012 review of Guy's American Kitchen & Bar in Times Square, "As Not Seen on TV"went viral soon after it was published. Your students will enjoy it, we promise.
What else would you recommend?
---
Race, Class, Gender and Identity:
Though there are literally thousands of pieces we could have chosen here, some that came to mind first were stories about teenagers:
Andy Newman's 2007 "Journey From a Chinese Orphanage to a Jewish Rite of Passage"
Tamar Lewin's 2000 "Growing Up, Growing Apart"
Mirta Ojito's 2000 "Best of Friends, Worlds Apart"
Frank Paiva's 2005 "A Prince Charming for the Prom (Not Ever After, Though)."
---
---
Sports:
We'd love reader recommendations here, but we'll start with two:
George Vecsey's 2004 column "Dear Boston Red Sox: Win Already. Now. Please?"
Michael Powell's "'OMG. You're So Much More Than Awesome'," a touching, funny interview with Kevin Bumgarner just after his son, Madison, "the best postseason pitcher on the planet," pitched five innings and earned the save to help the San Francisco Giants win the 2014 World Series title.
---
Grief:
The Storm Inside, an essay on "watching Hurricane Sandy roll in, from the windows of our son's hospital room."
---
Great Lives Columns:
Short, beautifully written and often hilarious, this weekly series in the back of the Sunday Magazine will almost always yield a great read-aloud. Here are some favorites:
Susan Senator's"The Subject of the Sibling," (2010)
Michael Krikorian's"Finding That Song" (2009)
Karen Russell's "Disco Papa." (2009)
John Moe's "Nice Girls" (2011)
Laura Munson's "Montana Soccer-Mom Moment" (2010)
Ada Calhoun's "Geekdom Revisited" (2011)
Tony Gervino's "A Rat's Tale" (2011)
Joel Lovell's "The Monkey Suit" (2011)
---
About the Pleasures of Reading Aloud in General (Times Pieces from 1932-2010):
"A Father-Daughter Bond, Page by Page"(2010)
Some Thoughts on the Lost Art of Reading Aloud (2009)
Beijing Journal: Why Is That Woman Reading Aloud in Heavy Traffic? (2005)
About Education: The Virtues of Reading Aloud (1984)
Father's Adventures in Reading Aloud (1960)
Reading Aloud (1932)
---
On Mandatory Reading:
In his 2007 piece, "Summer Bummer," Joe Queenan reflects on his son's and his own summer reading experiences. ("For as long as anyone can remember, well-meaning pedagogues have been sabotaging summer vacations by forcing high schoolers to read "Lord of the Flies," "All the King's Men" and "A Separate Peace.")
On Dr. Seuss: The Inspiration for Read Across America:
A.O. Scott's 2008 "Saving Who-Ville Is a Big Production" ("What distinguishes 'Horton Hears a Who!' from the other recent Dr. Seuss film adaptations is that it is not one of the worst movies ever made")
Thomas Friedman's 2007 column in which he writes, "Maybe Dr. Seuss, in 'The Cat in the Hat,' offered the best way to sum up the Middle East today."
---
How, When and to Whom to Read Aloud: Tips and Links
Ideas for Reading The Times Aloud With Younger Children
Find Words You Know: Find a Times article with appropriate content, like the one about the lost cat that got from Colorado to Manhattan, and have children circle with a pencil all the words they know, and then have them read the words aloud. Discuss: What do you think this article is about?
Headlines and Illustrations: Read aloud 15 headlines, like "Soccer's Sound of Team Spirit" or even "Preschoolers in Surgery for a Mouthful of Cavities" and then choose one to use as inspiration for drawing a picture. You might then compare similarities in the photographs or art that Times editors used to illustrate the story and that created by the children.
Slide Show Captions: Look at a slide show, like our "Times Photographs of the Civil Rights Era," and read aloud all of the captions. Find many, many more slide show choices on the Times multimedia homepage.
Weather Forecast: Start the day by reading aloud the local and national forecast for the day and the week. (Note that this information is more robust in the print paper than on the Web site.)
Recipes: Read aloud several recipes and then choose one to prepare for a family meal.
Ideas for Reading the Times Aloud to Older Students
Reading Marathon: It seems lots of people have caught the read-aloud bug recently, from our nation's leaders to actors inspired by the Icelandic bank crisis and "The Great Gatsby." Read about students reading aloud from "Paradise Lost" and "War and Peace" and consider creating your own reading marathon using whatever work you are currently studying — a move of which Curious George, spokesmonkey for the Library of Congress's public service campaign encouraging parents to read with their children, would approve.
"Spirit Reads": One New York teacher told us about a technique he calls the "Spirit Read" in his classroom. Students take turns reading when "the Spirit" moves them, taking turns as they see fit. A variation on this, which helps keep student readers on their toes, is the ever-popular "popcorn read" — one student begins reading and when he tires (or reaches the end of a paragraph, or whatever ground rule you set), he yells "popcorn" to get everyone's attention and calls out another student's name. The "popcorn" gets everyone's attention and the named student takes over reading. This means everyone has to be following along, as anyone's name could be called any time.
Interactive Read-Alouds: To increase student participation in reading aloud, try an Interactive Read-Aloud, a technique from the National Writing Project. Read aloud, stopping every few paragraphs or pages depending on your goals and the density and level of your text. Then, ask either classic literacy skills questions like "What predictions can you make about what happens next?" or mix those up with more whimsical questions like "If this character could say what he really wanted to say right now, what would he say?" or "Draw a quick illustration that could accompany this part of the text." Invite students to turn to a partner and share what they've written or drawn, then have a very brief whole-class share before you continue reading.
Understanding Breaking News: Use read-alouds to help history-in-the-making come alive for your students by reading news accounts or Opinion pieces on important news as it happens. Or, choose world-shaking news from the past from our On This Day in History collection. You might select quotations from different pieces about the same event and write them on slips of paper. Hand them out to students and do a "read-around," "spirit read" or "popcorn read" to get a sense of the multiple voices involved in the event.
Learning Network Weekly Fill-Ins: Each week we choose a high-interest recent article, about everything from pythons to "The Simpsons" to Twinkies to Halloween houses of horror and drop out some of the words in the first several paragraphs. One great way to help students' reading, and listening, comprehension is to read the original article aloud first, then have them fill in the blanks from memory.
From the Blogs: Times bloggers have strong voices and address topical, interesting, and sometimes bizarre subjects perfect for read-alouds. The Motherlode blog addresses topics – often controversial ones — relating to children, teens and parents, for instance, while Diners Journal has some fun food writing for reading aloud, like this Q and A with Andrew Simmern about eating bugs, which is sure to gross out students if read before or after lunch.
Exploring Tone with the Times: Reading aloud is a wonderful way to help students hear and understand tone. Columnist Maureen Dowd's pieces, like "Have You Driven a Smartphone Lately?" are strong on sarcasm and big on voice. First person pieces like "Lost in Las Vegas" also work well out loud. Students can experiment with tone by creating a speech from a piece like Mark Bittman's food manifesto.
On Reading and Technology: Many Times writers have explored the intersection between books and technology in pieces like "Living Singles,""Growing Up Digital, Wired for Distraction" and a Bits blog post on social e-reading. Our Future of Reading post links to a number of recent, interesting pieces on this topic.
Debates and Reader's Theater: Get a group together, and have each person take the role of one of the expert contributors to an installment of Room for Debate, like "Are People Getting Dumber?" or "Recipe for a Pop Star." They might even be staged as full-fledged Reader's Theater!
Reacting to Reviews: Read aloud a review of a movie you have seen or video game you have played, and then add your own commentary. Or have each member of class select a book review past or present, to read aloud to the class, and then have students choose from the titles reviewed for their independent reading or book club.
Why Read Aloud at All? Finally, if you're wondering why one should read aloud at all, what you do before or after, or whether there's such thing as a class too old or advanced to be read aloud to (answer: no), you can find resources here. Or read French author, parent and former teacher Daniel Pennac on the 10 "Rights of the Reader," especially #9 "The right to read out loud" (PDF).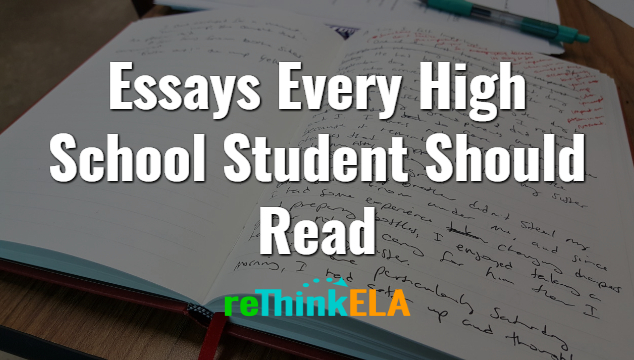 One of the most important goals of any English class should be to help students learn how to express themselves to an audience — how to tell their own stories, how to provide much-needed information, and how to convince others to see things from a different perspective.
Below are some essays students can read, not only to help them see how such writing is done in the real world, but also to learn more about the world around them.
Need a #mentortext for student essays? Check out these exemplars for personal narrative, argumentative, and expository essay writing. Click To Tweet
Note: This is a living list. I will continue adding to it as I find important essays and articles, and as my readers make suggestions.
If You Think Racism Doesn't Exist by Jordan Womack | Lesson Plan
A 17-year-old Oklahoma author details incidents of discrimination he has faced within his own community. Brief, yet impactful, the author's authenticity strikes readers at their core and naturally leads the audience to consider other perspectives.
Letter from a Vietnamese to an Iraqi Refugee by Andrew Lam
Vietnamese lecturer, journalist, and author Andrew Lam offers advice in this letter to a young Iraqi refugee he sees in a photograph on the Internet.
Allowing Teenage Boys to Love Their Friends by Jan Hoffman
Learn why early and lifelong friendships are as vital for boys as they are for girls and what happens when those friendships are fractured.
Chris Cecil: Plagiarism Gets You Fired by Leonard Pitts Jr
The Miami Herald columnist and 2004 Pulitzer Prize for Commentary winner castigates a Georgia newspaper editor for plagiarizing his work. This column would go great with this followup article from The Boston Globe: Ga. Editor is Fired for Lifting Columns.
Class Dismissed by Walter Kirn
The author of Lost in the Meritocracy postulates that getting rid of the high school senior year might be good for students.
Complaint Box | Packaging by Dylan Quinn
A high school junior complains about the impossible-to-open packaging faced by consumers of everything "from action figures to zip drives."
Drowning in Dishes, but Finding a Home by Danial Adkison
In this 2014 essay, a teenager learns important lessons from his boss at Pizza Hut.
How to Tame a Wild Tongue by Gloria Anzaldua
An American scholar of Chicana cultural theory discusses how she maintained her identity by refusing to submit to linguistic terrorism. 
Humble Beast: Samaje Perine by John Rohde
The five-time Oklahoma Sportswriter of the Year features the University of Oklahoma's running back.
In Praise of the F Word by Mary Sherry
An adult literacy program teacher argues that allowing students to fail will actually help them.
The Joy of Reading and Writing: Superman and Me by Sherman Alexie
A Native American novelist recounts his experience loving reading and finally writing in spite of a culture that expected him to fail in the "non-Indian world" in order to be accepted.
Lane's Legacy: One Final Ride by Keith Ryan Cartwright
A heartbreaking look back at the hours before and the circumstances surrounding Lane Frost's untimely death, followed by reflections on his rise to fame — before and after death.
Learning to Read by Malcolm X
The 1960s Civil Rights leader writes about how educating himself in prison opened his mind and lead him to become one of the leading spokesmen for black separatism.
Learning to Read and Write by Frederick Douglass
A former slave born in 1818 discusses how he learned to read in spite of laws against teaching slaves and how reading opened his eyes to his "wretched condition, without remedy."
Learning From Animal Friendships by Erica Goode
Scientists consider studying the phenomenon of cross-species animal friendships like the ones you see on YouTube.
Losing Everything, Except What Really Matters by Dan Barry
After a 2011 tornado destroys a house, but spares the family, a reporter writes about what's important.
The Marked Woman by David Grann
How an Osage Indian family in Oklahoma became the prime target of one of the most sinister crimes in American history.
Meet Mikey, 8: U.S. Has Him on Watch List by Lizette Alvarez
Read about what happens if you happen to share a name of a "suspicious person" on the U.S. No-Fly List.
Newly Homeless in Japan Re-Establish Order Amid Chaos by Michael Wines
After the tsunami that resulted in nuclear disaster in 2011, a reporter writes about the "quiet bravery in the face of tragedy" of the Japanese people.
No Ordinary Joe by Rick Reilly
Why in creation did American Football Conference's 1981 best young running back Joe Delaney jump into that pit full of water that day, even though he couldn't swim?
Politics and the English Language By George Orwell
Animal Farm and 1984 author, Orwell correlates the degradation of the English language into multi-syllabic drivel and the corruption of the American political process.
Serving in Florida by Barbara Ehrenreich
The Nickel and Dimed: On (Not) Getting By in America author tells about her experiences attempting to survive on income of low-paying jobs.
Starvation Under the Orange Trees by John Steinbeck
John Steinbeck, who later authored the fictionalized account of Okies in California, The Grapes of Wrath, first wrote this essay documenting the starvation of migrant workers in California during the Great Depression.
To Fall in Love With Anyone, Do This by Mandy Len Catron
Is falling in love really a random event, or can two people "love smarter?"
We'll Go Forward from this Moment by Leonard Pitts
The 2004 Pulitzer Prize for Commentary winner pens a column chronicling the toughness of the American family's spirit in the face of the September 11, 2001 World Trade Center attacks. He wrote the column one day after the attacks.
What's Wrong with Black English? by Rachel L. Jones
Jones, a student at Southern Illinois University in the 1980s, wrote this piece for Newsweek. In her essay, Jones adds her story and perspective to the debate over Black English.
Why the Best Kids Books Are Written in Blood by Sherman Alexie
Alexie speaks on the importance of Young Adult literature in the lives of students struggling to survive abuse, racism, poverty, depression, gang warfare, negligent parents, drugs, and poverty.
Explore highly relevant issues & practice reading comprehension through short essays written for authentic audiences. #litchat Click To Tweet
I am a secondary English Language Arts teacher, a University of Oklahoma graduate student, and a NBPTS candidate. I am constantly seeking ways to amplify my students' voices and choices.
Filed Under: PedagogyTagged With: Model Essays