The Most Enjoyable Month Of The Year Essay
Some people slag off the month of February like there should be a hole in the calender.
Yes it's cold, wet and not-quite-spring-yet, but February has plenty of other good stuff going for it.
Here's 18 reasons to love the month of February:
1. Easter is technically not until April, but Creme Eggs have officially hit the shelves and it's time for our annual chocolate-egg love affair. 
2. Hallelujah January is over! We can officially ditch the diet and get back to eating warming winter pies and slow cooked stews. 'Girl's gotta eat to heat' as they say.
3. In Brazil it's the Mardi Gras Carnival on 17th February, so there are lots of fun festival themed events going on in London like this one and this one.  Meaning you can dress up in tropical fancy dress, drink rum punch, shut your eyes and pretend like it's summer. 
4. That lush new winter coat you got for Christmas/bought in the sales will come into its own now it's actually properly cold.
5. Going out drinking seems even more fun now after a month of trying to abstain. It's basically the freshers week of real life.
6. You feel like a king being paid for the first time since December. The world of taxis and expensive cocktails is yours for a few days once again.
7. Being a short month, you won't be nearly as skint in the last week as you usually are. 
8. Valentine's Day – an excuse for either getting presents, sexy time, going out drinking with your mates, or all of the above. What's not to love?
9. The 15th of February: because Valentine's is over for another year. 
10. The 50 Shades of Grey film is out and you won't be able to escape it. An excuse to go and watch porn at the cinema without anyone judging. Perfect.
11. It's pancake day on 17th. PANCAKE DAY.
12. The dregs of the January sales are finally gone, and in the weird world of fashion it's officially spring, which means one thing – time to hit the shops.
13. You will almost definitely finally get that snow day you've been yearning for. 
14. Chinese New Year starts on the 19th – the perfect opportunity to eat all the dim sum.
15. Awards season is here, aka. time to perv over all the Oscar and Bafta fashions/ become a red carpet critic. 
16. TV is good. Broadchurch is drawing to a dramatic climax, apparently.
17. World Nutella Day in on the 5th (we know!). This means it's officially acceptable to snuggle up on the sofa with a jar and spoon. Fact.
18. The days are getting longer, the evenings lighter, and before you know it, it will be spring.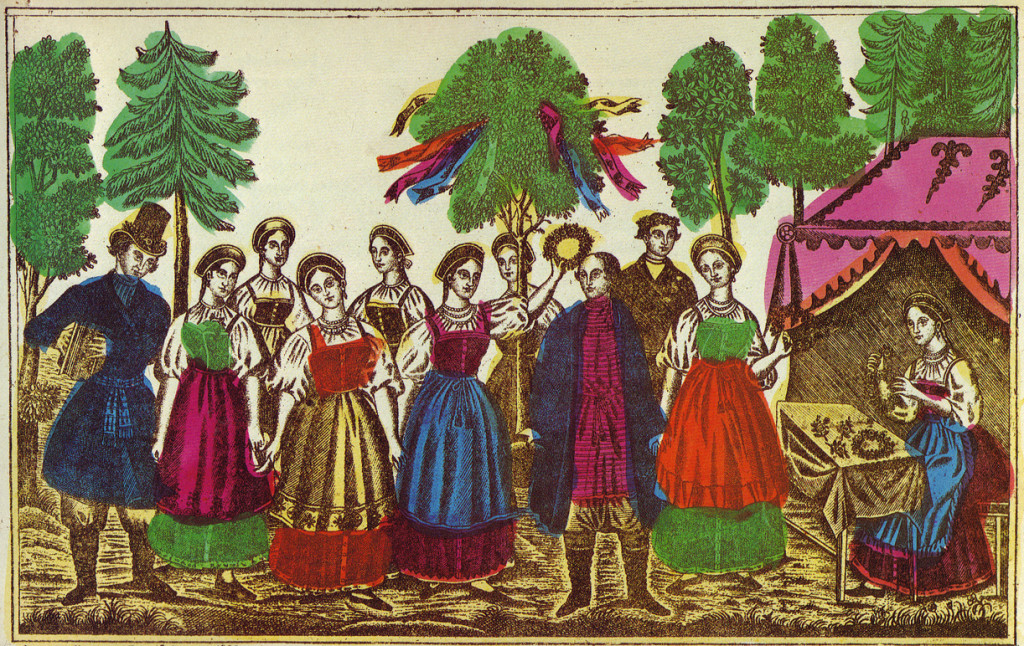 Semik, a Russian lubok from the nineteenth century.
You never really get over secret childish chauvinism about your birthday month. At least, I never did. In my mind, May will always be the best month of the year; emerald, the best birthstone; and lily-of-the-valley, the finest flower. (On the subject of Taurus, I am agnostic; I have always resented the fact that we are supposed to be stubbornly rolling around in velvet or something.)
Because my own birthday falls so early in the month, and because I was definitely on the "preciousness" spectrum, my eighth birthday had a May Day theme. I knew little of the day's ancient roots or traditional practices, let alone its adoption by the labor movement. But I had a Tasha Tudor book called Around the Year that featured young girls, flower garlands, and a beribboned maypole, and I was sold.
For my birthday, we gathered flowers, made May baskets, and left them on neighbors' doorsteps while we hid nearby. They must have been very confused. Although my parties were generally homespun affairs, on this occasion my mom hired a gentleman in Renaissance dress who played a hurdy-gurdy while we danced around a maypole that a friend's dad had constructed from a birch trunk. We were all terrified of the hurdy-gurdy man, and kept our distance.
"The Merry Month of May" was written in 1599 by the prolific playwright and pamphleteer Thomas Dekker. Dekker was widely considered a wastrel and a hack—Ben Jonson dismissively called him a "dresser of plays about town"—and he spent seven years in debtors' prison. But his pastoral is one of the most enduring paeans to the fifth month. Somehow I doubt it was in the hurdy-gurdy man's repertoire.
O, the month of May, the merry month of May,
So frolic, so gay, and so green, so green, so green!
O, and then did I unto my true love say,
Sweet Peg, thou shalt be my Summer's Queen.

Now the nightingale, the pretty nightingale,
The sweetest singer in all the forest quire,
Entreats thee, sweet Peggy, to hear thy true love's tale:
Lo, yonder she sitteth, her breast against a brier.

But O, I spy the cuckoo, the cuckoo, the cuckoo;
See where she sitteth; come away, my joy:
Come away, I prithee, I do not like the cuckoo
Should sing where my Peggy and I kiss and toy.

O, the month of May, the merry month of May,
So frolic, so gay, and so green, so green, so green;
And then did I unto my true love say,
Sweet Peg, thou shalt be my Summer's Queen.